Low-pressure over-moulding solution gets the green light
---
Ampcontrol's lighting division, Burn Brite, recently commissioned Tarapath to provide a complete turnkey low-pressure over-moulding solution for the company's new Intrinsically Safe LED light, designed for hazardous area mining and tunnelling applications. Ampcontrol needed to bring the process in-house to enable flexible manufacturing; hence the requirement was for production equipment, production tooling for four over-moulded products, along with material as an ongoing consumable.
The IS LED light, being a product in demanding environments, needed to achieve a high IP rating as the primary concern; at the same time, a level of professionalism in appearance needed to be achieved. There was also a very demanding schedule, so time was of the essence. Other potential manufacturing techniques were ruled out. Complicated plastic injection moulded enclosures with gaskets and seals required long lead times, and simpler techniques such as heatshrink boots and y-connections did not offer the look befitting the product.
Equipment
Tarapath recognised the need for companies in the cable assembly space to have a piece of low-pressure moulding equipment which dealt specifically with the challenges of manufacturing at times complex and intricate cable assemblies and harnesses. There may be assemblies with multiple branches, varied lengths and varied connector terminations. Overcoming these handling issues was important to deliver a solution that enabled flexibility yet ensured a practical and, most importantly, safe machine.
The Beta 300 2T WIDE incorporated an enlarged work area to deal with cumbersome cables, along with an adjustable light curtain area so long cables could exit the work area to a dolly or similar, additional fixing points for custom fixtures where needed, and additional clamping force to deal with larger parts, all integrated with custom programming for complete safety. This machine was the ideal fit for Ampcontrol's requirements for a medium-volume, high-flexibility manufacturing set-up.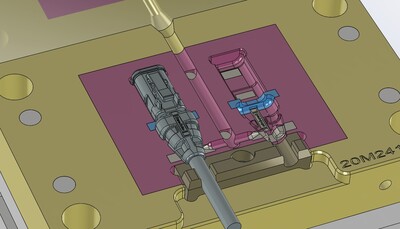 Product design and tooling
The in-house design team for Burn Brite products worked closely with Tarapath to reach the final designs for their over-moulded products. A grommet, connector over-mouldings for male and female amphenol connectors and a 2-to-1 splice over-moulding were all required for the project.
A combination of designing for function as well as a dynamic, angular aesthetic came together in the products, creating a cohesion between each item that would be unachievable with off-the-shelf back shells and/or heatshrink boots.
Choosing low-pressure moulding over assemblies of injection moulded parts and gasketing arrangements meant reduced costs initially, as well as reduced lead times. The one-step process of over-moulding also removes multiple potential assembly steps. This suited the new Burn Brite IS LED light, as a high inventory of parts was undesirable.
Material
Tarapath was able to have its standard material, in this case PA 641, colour matched to the Burn Brite cables. The blue cables, indicative of intrinsic safety, were reaffirmed with the over-mouldings matching.
Turnkey solution
Although normal conditions were challenged, with the COVID-19 pandemic being an obstacle to getting the complete project completed in time, all timelines were met. Ampcontrol was able to have its Burn Brite IS LED light certified as required, get equipment and tooling onsite and begin production, which is now ongoing.
Please follow us and share on Twitter and Facebook. You can also subscribe for FREE to our weekly newsletter and bimonthly magazine.
---