Sponsored
AIMTEC converters for EV applications
---
There is no doubt that electric vehicles are becoming one of the most important branches of the automotive industry. Electric vehicles have many benefits, such as their influence on the natural environment, cheaper costs of use and a significant reduction (compared to combustion cars) in maintenance and repair costs. Perhaps the biggest obstacle that slows down the EV market is the limited infrastructure designed for charging such vehicles.
There are three types of devices designed for replenishing power resources in electric vehicles. The first and the most common are AC stations — providing high currents which are converted by rectifiers and controllers located inside the vehicle. DC stations are an alternative for faster cell charging, directly accessing car batteries, and thus they are not limited by the parameters of the car electronics. Those two solutions are usually applied in equipment placed in public spaces and therefore should be characterised by intuitive operation, e.g. by using touchscreens, as well as by high reliability (maintenance costs may be the deciding factor for the profitability of investment). The third type of chargers is portable equipment allowing to connect the vehicle directly to an ordinary power socket.
The products from the above-described categories feature integrated communication circuits (which, among other functions, generate a pilot signal and make it possible to monitor the charger status remotely), complex charging control circuits, as well as microprocessor systems or compact computers supporting the user interface and controlling the operation of the device. All these components require precise power supply, and at the same time they share the energy source with circuits subjected to large and varying loads. That is why advanced converters and stabilisers are used in charging stations and portable chargers. At TME, we offer a wide range of those components, some of which are dedicated by the manufacturers themselves for use in the EV applications. Below, we present an overview of products from one of such manufacturers, the well-known and globally appreciated AIMTEC.
Selection of AIMTEC power supplies and converters
The AIMTEC range of products in the TME catalogue includes thousands of items. These are power supplies, converters and a range of similar products. Below, we selected those whose functionality and parameters are best suited to the needs of EV applications. This selection includes converters supporting most components of charging stations, as well as compact, or even miniature converters intended for installation in smaller devices, e.g., inside portable chargers or in plugs bodies.
AC/DC converters
First, we will describe AC/DC converters, thanks to which electronic systems can be powered from the same source (network) from which the energy is drawn to charge cells in EV cars. These systems may include controllers, power monitors, user interface circuits, communication modules, etc. This range of products comprises power-supplying components producing stable voltage, which are durable and feature a number of safeguards.
AMES50/75 and AMESP75/100/150/200 power supplies
The power supplies from this series were designed for devices that are connected directly to the power network. They feature several protections (anti-overload, anti-overvoltage, short-circuit protection). They have a guaranteed lifespan of 250 thousand hours (MTBF, Mean Time Between Failures), which reduces the need for service and maintenance, so these units are well suited for outdoor applications, such as EV charging stations, but also streetlights, components monitoring the work of transformer stations, telecommunication infrastructure. These power supplies support a wide range of supply voltages: from 85V to 305V AC and from 120V to 430V DC. They provide a DC voltage from 5V to 48V, with a current from 1.1A to 90.5A (depending on the model) and as such they satisfy the needs of most typical applications. Due to a standardised housing with ventilation slots and mounting holes, the products are suitable for installation in modular devices and feature wide thermal tolerance (up to -30...70°C). They are designed to be connected by screw terminals, thus further improving the installation and exchange of the units during the manufacturing process or maintenance works.
AMESP75-12S277NZ-P
Modular construction and connection via terminals to facilitate installation.
AMEL10/15/20 series
AMEL15-12S277HAVZD
DIN rail-mounted version of the AMEL converter.
The converters of the AMEL series are characterised by compact size, while maintaining impressive electrical parameters. They come in variants with the power of 10W, 15W and 20W at the isolation voltage of 4kV. They can operate in a wide range of temperatures (from -40°C to 85°C). The MTBF for these products is as high as 3200000h. The output voltage, depending on the model, ranges from 3.3V to 24V DC, and can be adapted to match the needs of a given application. It should be noted that these components ensure good stabilisation of voltage, so voltage fluctuations do not exceed 100mV, as well as protection against exceeding the rated electric potential at the output. From the TME catalogue, you can purchase variants of converters designed for DIN rail- or panel-mounting.
AMEM3 and AMEM5 series
The components from the AMEM3 and AMEM5 series are designed for direct PCB-mounting in integrated power supply circuits — they are similar to the AMEL products described above, but they are enclosed in even smaller packages. Each of these products supports input voltages from 85V to 305V AC and from 100V to 430V DC; is characterised by low energy consumption at no-load and features fundamental protections, securing not only the converter but also the systems connected to it.
AMEM3-24S277HAVZ
AMEM converter has a footprint of 25.4x25.4mm.
AME5 series
AME40-24S277VZ
The compact package houses converters providing three different voltages.
AME5 series converters have a significant advantage over many rival products — they are a complex solution which can autonomously serve the function of a central power supply unit. When connected to the mains (85...305V AC) or a constant voltage line (100...430V DC), they supply three voltages: 12V DC, 5V DC and -12V DC. They are therefore well suited for complex systems controlled by microcontrollers, as well as circuits equipped with amplifiers, generators (e.g., in inverters), serial communication modules, etc. It should be noted that in electric vehicles the pilot signal uses exactly these types of voltages, ±12V. Additionally, the converters' dimensions (48.5x36x20.5 mm) can be used in devices of non-typical shapes (e.g. inside the EV plugs) or in mobile devices (adapters).
AME40/60 series
If the solutions described above do not offer the current efficiency required to power a given application, we recommend taking a look at the AME40 and AME60 series rated at 40W and 60W. They are enclosed in THT packages and therefore the entire voltage conversion circuit can be placed on a single PCB. In the case of heavier components, an additional fixing to stiffen the circuits is provided by threaded corner holes.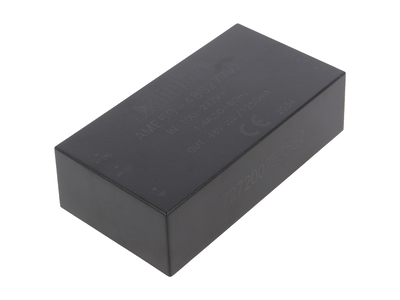 AME60-48S277VZ
60W AC/DC converter in a PCB-mount package.
DC/DC converters
While the products described above may be powered with both alternating and direct current, AIMTEC offers a selection of solutions in the field of DC/DC converter, too. They can be applied in many components in the electric automotive field, as they provide a stable power source for charging controllers, on-board electronics, user interface station circuits, etc.
AM15W-NZ series
The 15-watt AM15W converters are DC/DC components. In the context of ecological solutions, which include electronic vehicles, it should be noted that the AM15W series was designed to operate in, among others, photovoltaic systems which means high immunity to variable parameters of supplied power, including a very wide range of supply voltages (100...1000V or 200...1500V). Moreover, the converters are designed to be mounted directly on a PCB and are characterised by a relatively small size and weight (from 95 g to 300 g). You can choose between models with an output voltage of 12V, 15V or 24V.
AM15W-60012S-NZ
The small converter adapted for input voltage as high as 1500V DC.
For more information, click here.
Related Sponsored Contents
Pushbuttons and switches are typical components of electric circuits. By using them, we can...
CHS stands for 'Capacitive Hidden Switch'. It can be installed invisibly behind almost...
Visaton is a manufacturer of high-quality speakers and speaker components.
---