Sponsored
Submerged: switches for underwater applications
---
Anyone who wants to light up their swimming pool, sprinkle it with music, or make their whirlpool bubble, needs a switch to activate these functions. The choice of a suitable switch for underwater applications or those with extremely high humidity is limited; only a few technologies are suitable for this.
Mechanical switches
The most widely used technology is mechanical switches with stroke. We encounter them every day, for example when we switch the light on or off. They are characterised by a rich pressure point, high reliability and an enormously wide range of products — an excellent choice for indoor applications.
For outdoor applications, it requires a great deal of effort to protect them from high humidity or even direct contact with water. The reason is simple: mechanical switches work on the stroke principle, i.e. they have moving parts. Water can penetrate into the space between the moving parts — between the housing and the actuator. When minus temperatures occur, this freezes the actuator and can no longer be pressed to close the contact. Dirt, dust, exhaust gases or even spilled liquids can further affect the operation of a mechanical switch; they are therefore not particularly suitable for outdoor or wet areas.
Capacitive switches
Capacitive switches are currently experiencing a rapid growth ever since smartphones have completely changed our communication and media consumption behaviour. Capacitive switches do their job considerably wear-free. And their mode of operation is fundamentally different from that of mechanical switches. There is no stroke or moving parts. It is activated simply by a touch of the sensor — corresponding to the actuator of a mechanical switch — where the finger changes an electrical field. This alteration triggers a change in the switch state without any pressure needing to be applied onto the sensor.
However, they are not the first choice for every application since high air humidity or direct water jets, for example, massively disturbs the function. So they are definitely unsuitable for a swimming pool or whirlpool.
Pneumatic switches
For decades, pneumatic switches were the first choice for pool and spa builders where force is transmitted by compressed air. Mechanically, high-quality designs are quite demanding to manufacture as reflected in the price. As with mechanical switches, pneumatic switches also have moving parts, which inevitably leads to material ageing where the product life span is reduced. Besides the fact that the seal of pneumatic switches requires special attention, another important point to note is that optical feedback via point or ring illumination is not used for such switches.
Piezoelectrical switches
Particularly robust and durable are switches based on the piezoelectric principle. Such switches use the piezoelectric effect, which produces an electrical voltage when a mechanical force similar to that of a mechanical switch is applied to the piezoelectric element (quartz, ceramic or similar) or actuator. This voltage leads to a change of state used for the switching process.
However, in contrast to the mechanical switch, the piezo switch has no moving parts. It can be hermetically sealed with IP protection up to IP69K. This feature predestines it for use under the most adverse conditions and allows it to continue to operate reliably in the presence of water and dirt of any kind, as well remain unaffected by any change in the ambient temperature.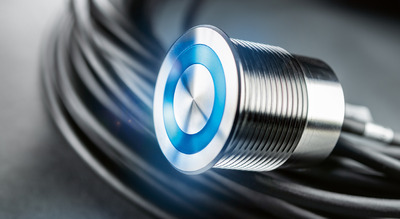 Piezoelectric switch from SCHURTER with RGB ring illumination made of non-corrosive steel with a pre-assembled 15 m cable especially for installation above and below water (protection up to IP69K).
Conclusion
Increasingly, pool and spa designers have recognised the advantages of piezoelectric switches. They are comparatively inexpensive, extremely robust and durable. They defy almost all adversities, including the widespread use of aggressive chemicals in wet areas.
The metal line switches of the PSE series from SCHURTER can also be specifically adapted to customer-specific requirements with regards to labelling, lighting or housing materials. The elegant design and excellent surface finish guarantee maximum robustness and durability.
More information on SCHURTER's latest product suitable for wet applications — PSE switch with Cable — can also be found here.
Top image credit: ©stock.adobe.com/au/Photobank
Online: www.schurter.com
Phone: 0011 65 6291 2111
Related Sponsored Contents
---