Electrolube launches video series for its conformal coatings
---
Following the uptake of its two-part 2K conformal coating by manufacturers in a myriad of industries, Electrolube has announced a new series of how-to videos to demonstrate how simple it is to accommodate the two-part coating system into existing dispensing systems.
Electrolube's 2K series of coatings are VOC-free, fast-curing, high-performance, two-part systems that provide a solvent-free alternative to both UV and silicone materials, require less capital investment than UV materials and improve on the performance of most silicones in harsh environments. The majority of coatings in the 2K range are hydrophobic, providing protection against water immersion, salt mist and humidity, meaning they are suitable for automotive electronics. Whilst 2K coating materials can be applied thinly (50–75 μm), they have been designed, formulated and tested to be applied at much greater thicknesses (150–300 μm) to facilitate encapsulation of components and component leads.
2K valves facilitate simple mixing of the two-part coating and can be programmed within the settings, making it straightforward for the operator to adjust for varying 2K materials. Controlling the flow rate at a suitably low level whilst also maintaining the correct mix ratios is key, and low-volume progressive cavity pumps help to achieve this. The pumps control the flow rates of the individual components of the formulations within ±1%, maintaining control of the volumetric mix ratio and ensuring correct curing and properties of the dispensed materials. Additionally, the spray head velocity can be up to three times faster than traditional 100% solids materials spray applications, reducing coating cycle times.
The videos will run through the basic set-up; outline how to modify production by retrofitting 2K valves to existing equipment; show the valves in action and overview how they work; consider calibration and testing, spray pattern set-up, troubleshooting and cleaning; and finally explore the differences between 2K and solvent-based coatings.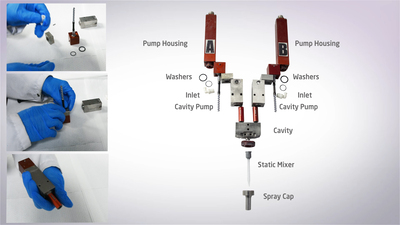 "Electrolube's 2K systems demonstrate extraordinary performance when compared to other coating chemistries and types, hence the reason for the extraordinary levels of interest," said Electrolube Managing Director Ron Jakeman. "Their popularity and performance capabilities have initiated the development of the new video series to demonstrate all aspects of implementing 2K into production.
"It is very straightforward, with a simple valve modification to existing dispensing equipment, and can make all the difference to extending the reliability and lifetime of the device requiring protection in its end-use environment. This is particularly relevant for harsh environments, given that 2K can be applied thickly and without cracking during thermal shock testing, enabling a greater degree of component lead coverage. This in turn results in improved performance during salt-spray, mixed flowing gas (MFG) and condensation testing — traditionally gruelling test regimes commonly used during automotive qualification campaigns."
The how-to videos will be available on Electrolube's website at www.electrolube.com and the Electrolube YouTube channel at https://www.youtube.com/user/ElectrolubeSolutions. The first video in the series can be viewed below.
Please follow us and share on Twitter and Facebook. You can also subscribe for FREE to our weekly newsletter and bimonthly magazine.