Sponsored
Test electronic designs with Digilent Analog Discovery Pro 3000 Portable High Resolution Mixed Signal Oscilloscopes
---
Provide the utility of professional benchtop equipment with the flexibility of a portable instrument.
Engineers all over the world use Digilent Test and Measurement devices to decrease their design cycle time and increase their impact by always having an oscilloscope, logic analyzer, waveform generator and more within reach.
Digilent expands the Test and Measurement line into professional engineering and introduces ADP 3450 and ADP3250, in the line of Analog Discovery Pro devices, offering 4 channels (ADP3450) / 2 channels (ADP3250) of analog input with 14-bit resolution at up to 0.5 GS/s. Additionally, to meet the needs of an increasingly digital world, 16 dedicated digital channels make the ADP3450 a true mixed signal oscilloscope. With the included digital power supply, digital outputs, two channel arbitrary waveform generator and two dedicated external triggers, Analog Discovery Pro comes with 12 instruments ready to analyze mixed signal systems through our free software, WaveForms:
Powerful Multi-instrument Software Applications
WaveForms is the free software application for the ADP3450 and ADP3250 and enables use of the available analog and digital instruments. The software has been refined by customer feedback for over 10 years and features a computer- and laptop-friendly user interface that has the feel of traditional benchtop software. The device communicates with WaveForms via a USB or ethernet connection to your computer, allowing users to capture, record, analyze, and generate mixed signal and mixed domain waveforms. WaveForms can be downloaded and installed in under 60 seconds and can be tested without hardware using its demo mode feature. In addition to the use of instruments in the application, the WaveForms application has a script editor tool, which allows custom scripting of the instrument in JavaScript. WaveForms is designed to be run on a laptop or desktop computer and is Mac, Windows, and Linux compatible. WaveForms SDK is a set of software libraries and examples that can be used to develop custom applications that can control Digilent Test and Measurement devices. Supported languages include C, C++, C#, Visual Basic, and Python. Third-party toolkits are available for LabVIEW and MATLAB.
Linux Test Environment
Analog Discovery Pro introduces Linux Mode. Linux Mode provides an on-device terminal-based operating system that, when combined with WaveForms SDK, is a flexible starting point for all kinds of custom tests and applications. Running embedded on the device itself or via WaveForms, engineers and measurement enthusiasts alike can take advantage of data streaming via ethernet, and the on-device storage to capture buffers of millions of samples.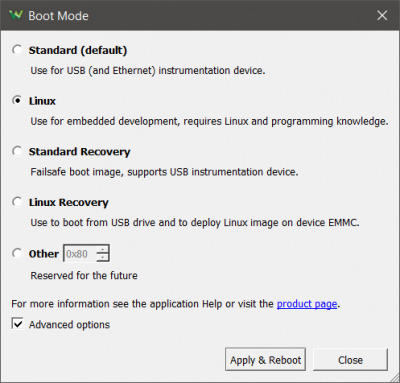 Advanced Triggering
Analog Discovery Pro features a variety of advanced triggering options. Instruments within WaveForms can be cross-triggered for example, activating an oscilloscope capture based on a received and decoded digital protocol. And external signals can trigger events using the two dedicated external trigger inputs on the back of the device.
Enabling professional engineers
Digilent has invested in creating a bunch of support resources to make Analog Discovery Pro's multiple features more accessible to engineers:
Getting Started Guide to walk you through the first measurement in GUI and Linux environment.
Example Projects demonstrate a wide range of applications. You can find an example of the Automated Testing in Linux environment, which uses WaveForms SDK from within Linux mode, in order to run scripts directly, without a host. The example of streaming data over Ethernet demonstrates how to set up a direct connection from the device to a host computer running WaveForms, or connect both devices to a network, and control the Analog Discovery Pro remotely. The tutorial of sampling a signal at 0.5 GS/s with the Analog Discovery Pro shows how to achieve the highest sampling rate of Analog Discovery Pro.
Check out the Analog Discovery Pro Resource Center for more guides, tutorials and applications.
Related Sponsored Contents
---